But you shall receive power when the Holy Spirit has come upon you, and you shall be witnesses to Me in Jerusalem, and in all Judea and Samaria, and to the end of the earth. — Acts 1:8

At Calvary Chapel Cherry Creek, we believe that Jesus' call in Acts 1 is more than just a command — it's a mandate to share the Gospel throughout all of the world! This means that we are committed to strategic ministry that reaches our communities, nation, and to the furthest ends of the earth! As a fellowship, we support global missionaries, mission-support organizations, and local organizations that work to grow the kingdom of God. At the core of what we do, we are simply equipping the saved to reach the lost.
Jon and Kristin Coupal — Gulu, Uganda
Jon and Kristin were sent out by Calvary Chapel Cherry Creek in 2016 under the ministry name "Coupals to Uganda." Together, they are dedicated to following the call of God on their lives by training and discipling Ugandans through the teaching and counsel of the whole Word of God. Jon and Kristin serve through Terebinth Ministries where Jon is the Assistant Director in charge of curriculum development and teaching and Kristin is an administrator. The Coupals were the first missionaries Calvary Chapel Cherry Creek supported from our own fellowship!
See what God is doing through the Coupals by following their blog and subscribing to their newsletter!
Terebinth Ministries — Gulu, Uganda
Terebinth Ministries is the organization where Jon and Kristin Coupal commit their time directing and administrating various aspects of ministry. Located in Gulu, Uganda, Terebinth Ministries is dedicated to spiritual health and physical health. It is run by a mixed team of foreign and local leaders. The three-fold ministry is the Terebinth School of Discipleship, the Dream Center Clinic, and BAM (Business as Mission) Enterprises. God is moving in a mighty way through Terebinth Ministries in Uganda!
Give to Terebinth Ministries and further God's work to reach the ends of the earth!
U-Turn for Christ — Florence, Colorado
U-Turn for Christ is about freedom from drugs and alcohol through Jesus Christ. It was founded through Pastor Gerry Brown and has grown into a nationwide movement to see the chains of addiction broken through repentance and turning to Jesus Christ for salvation! Whether the whole U-Turn for Christ group comes and visits Calvary Chapel Cherry Creek or we go to visit them, our heart is to develop relationships with the men at U-Turn for Christ, pointing them to Jesus. We also come alongside Pastor Jeff Hill to support the Colorado Springs branch of U-Turn financially.
See what God is doing through U-Turn by following them on Facebook!
April Heredia — Engineering Ministries International
April is a staff architect with Engineering Ministries International (EMI) USA in Colorado Springs, Colorado. Engineering Ministries International is a non-profit Christian design organization with a network of design professionals who develop people spiritually and professionally, design structures, and construct facilities which serve communities and the global church. Their vision is to see people restored by God and the world restored through design. In over 35 years, their architects and engineers have designed over 1,400 development projects in over 100 countries.
Follow April on Facebook to see what God is doing through Engineering Ministries International!
Jim and Renée Carrick — Caley Ridge Assisted Living
God called Jim and Renée Carrick to lead a Sunday church service (teaching and worship) at Caley Ridge Assisted Living in Englewood, Colorado after Jim's faithful service at previous assisted-living outreaches. They have spent the last couple of years building relationships with the elderly who live there, leading them closer to Jesus through the teaching of God's Word and through a demonstration of faith, hope, and love. Please support Jim and Renée and the residents of Caley Ridge Assisted Living through prayer, especially during the current pandemic as services have been suspended until further notice.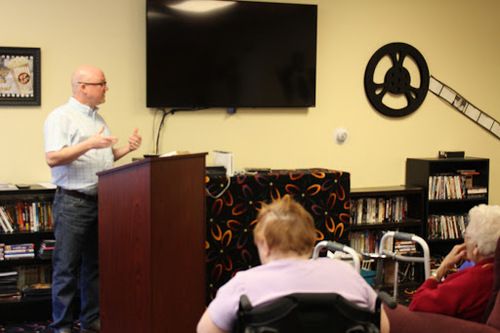 Milan and Zita Tachecí — Roudnice, Czech Republic
Pastor Milan Tachecí and his family moved to Roudnice in the Czech Republic to reach locals with the Gospel of Jesus Christ. Their growing home fellowship became Calvary Chapel Roudnice .
Follow the Tachecí family in their newsletters!
Loukios and Athena Nousios — Limassol, Cyprus
Loukios is the national director for Youth for Christ Cyprus. He grew up in Cyprus and spends most of his time bringing the Gospel of Jesus Christ to the natives there. His vision is to continue the work of spreading the Gospel to the youth first, then to reach all of Cyprus. There are many ministries that he and his family are involved in!
Follow them on Facebook to see what God is doing through Youth for Christ Cyprus!
To learn more or to encourage any of our mission teams, contact us!